Presentations will spotlight how rail plays an important part in Economic Development throughout Texas and the Southwest
Thursday evening – January 18
5:00 – 7:00pm   Registration and Networking Happy Hour Cash Bar
7:00 – 9:30pm   Conference Dinner –
How The Midwest Is Building A Passenger Rail Network
Richard Harnish is the Executive Director of the Midwest High Speed Rail Association (MHSRA), one of the nation's oldest and largest high-speed rail advocacy organizations.
Harnish co-founded MHSRA in 1993, became its first executive director in 2001. His quotes and opinion pieces frequently appear in national, Midwest and Illinois media, and he regularly speaks around the country on high-speed rail and railroad infrastructure issues.
Harnish sits on the the Civic Advisory Committee for the Chicago Union Station Master Plan Study. He is a member of Governor Quinn's Advisory Committee to the Illinois Department of Transportation's feasibility study on a 220-mph high-speed corridor from Chicago to Champaign/Urbana. He is also board member of the National Association of Railroad Passengers. Harnish graduated from Elmhurst College in 1986 with a Bachelor of Arts degree in transportation management. After leaving Elmhurst, Harnish was a logistics manager at American President Lines and JB Hunt and managed industrial real estate in Chicago.
Friday- January 19
7:30 –   8:30am   –   Registration and Breakfast Snacks
8:30 –  8:45am  –    Welcome to the 14th Annual Southwestern Rail Conference
8:45 –  9:15am   –    Union Pacific Railroad Presentation – Union Pacific and Ports:
Growth by Sail & Rail
David Black has served as Manager – Ports for Union Pacific Railroad since 2017, and based in Houston, Texas.  In this position, Black is responsible for managing the railroad's relationships with ports along the Gulf Coast, inland waterways, and Great Lakes.
Black initially joined Union Pacific in 2005 at the Omaha, Nebraska headquarters.  He first held roles in marketing, sales, and logistics in the Agricultural Products and Coal departments.  Black then served 10 years in Union Pacific's Washington, D.C. office as part of the federal affairs and policy team.
Originally from Grand Island, Nebraska, Black holds a bachelor's degree in Business Administration from Creighton University's Heider College of Business and a master's degree in Government from Johns Hopkins University.  He currently serves on the Creighton University National Alumni Board and the Heider College of Business Advisory Board, and remains involved with performing arts causes and the Alzheimer's Association.
9:15 –  10:00am  –    Rail: the Rodney Dangerfield in State Transportation Plans?
Compared to other modes, do passenger rail and freight rail get "no respect" in Texas? Learn how we can make passenger and freight rail an integral part of a long-term transportation plan in the Texas legislature and with the Texas Transportation Commission / Department of Transportation.
Moderator  – Deirdre Delisi, former Chair, Texas Transportation Commission and former Chief of Staff to then Governor Rick Perry
Deirdre Delisi is a partner in Delisi Communications, a full-service public relations, government and political consulting business.
 For the better part of a decade, Deirdre has been a policy and political advisor to Governor Rick Perry. Most notably, Deirdre served as his Chief of Staff from September 2004 to June 2007. While serving as top deputy, Deirdre managed the policy, budget, legislative and communications staff for Governor Perry and assisted in the passage of Governor Perry's tort reform, Medicaid reform, border security and education reform initiatives. 
Her tenure as Chief of Staff was marked by the successful, bipartisan effort to reform the Texas tax system and conform the state's school finance system to Constitutional requirements. According to one observer, "The reform of school finance in 2006… was one of the great achievements of the Republican era in Texas politics. It was a responsible resolution of a crisis." 
In May of 2008, Governor Rick Perry appointed Deirdre to serve as Chairman of the Texas Transportation Commission.
 Deirdre also served as campaign manager for Perry's first successful campaign for Governor in 2002. Despite being outspent by over 3-to-1, Governor Perry won the election by 18 percentage points. Deirdre is a veteran of numerous political campaigns, including Perry for Governor 2002, Bush-Cheney 2000, Perry for Lieutenant Governor 1998, and Lamar Alexander for President 1996. 
Deirdre graduated magna cum laude from Duke University in 1994 with a BA, with honors, in Political Science and Comparative Area Studies, and she received her MA in International Policy Studies from Stanford University in 1995.
Looking under every rock for little explored sources of funding for freight and passenger rail projects.
John D. Heffner 's practice is focused on private and public interests in rail transportation law. John is one of the very few private practice attorneys knowledgeable about the formation of the National Railroad Passenger Corporation (Amtrak) and Consolidated Rail Corporation (Conrail) and the specialized laws related thereto.
John advocates alternative rail dispute resolution and maintains a close relationship with all major Class I railroads in the United States and Canada, major short line and regional railroad owners, Amtrak, commuter railroad authorities, and state departments of transportation, as well as a cadre of consultants and other railroad industry contacts. He has testified as an expert witness in railroad-related litigation.
John represents clients before the federal government including the Surface Transportation Board (STB), the Federal Railroad Administration (FRA), and the Railroad Retirement Board, and in commercial transactions. His clients include short line and regional railroads, railroad industry suppliers, lenders, and investors as well as state departments of transportation, passenger rail authorities, port authorities, and utility companies.
Why is it so hard to move rail projects forward in the Southwest?  How can they get the respect they deserve?
Christopher Taylor, PE – Rail Projects Manager  – ARUP
Mr. Taylor is an Associate Principal with Arup and serves as a project manager and lead engineer for railroad right-of-way and station projects.  Chris has played a key role in many major railroad infrastructure planning and environmental studies as the lead engineer.  His understanding of planning, design, construction, and the environmental approvals process allows him to identify potential project hurdles early in the development phase and to develop designs that avoid or mitigate impacts in order to streamline the approvals process. 
He served as lead engineer on MTA NYCT's Second Avenue Subway and Fulton Street Transit Center projects, and NJ Transit's NJ TRANSIT's Trans-Hudson Express Tunnel project. He also served as the lead engineer for the development of Amtrak's Vision for High-Speed Rail in the Northeast Corridor and is currently leading conceptual engineering for the Texas Central HSR project.   Chris received his M.S. degree in Civil and Environmental Engineering, with a minor in Regional Economic Analysis from Cornell University.  He received a B.S. degree in Civil Engineering at the New Jersey Institute of Technology.  He is a licensed engineer in CT, NC, NJ, NY, PA, and TX.  He is an active member of the American Society of Civil Engineers (ASCE) and the American Railway Engineering and Maintenance of Way Association (AREMA).  He currently serves on AREMA's Committee 17, High Speed Rail Systems and is the Chairman of the Corridor Planning subcommittee.  Chris and his wife Patricia now live in Dallas with their three children and three dogs.
10:00 – 10:15am   –  Refreshment Break
10:15 – 11:30am –  Short Line Railroads: Texas Short Lines – Network Critical
Panel to highlight an overview of Texas Short Lines, issues and challenges, legislative agenda for 2018/2019.
Moderator: Paul Treangen – President  – Texas Short Line & Regional Railroad Association / TNW Corporation
Paul is responsible for the strategic direction, operations, corporate culture, and fiscal performance of TNW Corporation; an industry leader in transportation logistics and short line railroad operations. He also serves as a member of the firm's Board of Directors.
Paul has over 30 years of experience in senior executive leadership, primarily focused in the transportation and energy sectors. Prior to joining TNW, in 2014, he was the Chief Executive Officer of Colo Railroad Builders. He has also served as President of Alliant Energy Transportation, President of Cedar Rapids and Iowa City Railway, Director of Generation, and Director of Electric and Gas Delivery, for Alliant Energy Corporation, a NYSE company. Currently, Paul is serving as President of the Texas Short Line Railroad Association (TSLRRA).
Paul is a graduate of the University of Iowa with Master of Business Administration and Bachelor of Business Arts degrees. He has been a member of the Board of Directors of numerous professional organizations, including Colo Railroad Builders, Iowa Interstate Railway; Heartland Corporation; Iowa Northern Railway; Cedar Rapids and Iowa City Railway; and the American Short Line and Regional Railroad Association.
Short Lines in Texas, an overview: Clayton Kendall, TNW Corporation, Manager of Government Affairs 
Clayton Kendall, Manager of Corporate Property and Government Affairs, has been with TNW Corporation since 2015. A Dallas native, Clayton grew up in the Real Estate business and graduated from Baylor University.
His responsibilities include overseeing real estate related transactions and/or development and Government Affairs. In 
addition, Clayton acts as a liaison to the local municipalities and state economic development departments.
His background spans the fields of construction, non-profit funding, commercial & industrial real-estate brokerage, and financial services. Prior to joining TNW Corporation, Clayton worked as a Broker Associate for Reynolds and Lapp Commercial in Dallas, Texas. He currently resides in Richardson, Texas with his wife and two children.
Short Lines in Texas, Issues and Challenges: Laura McNichol, Watco, Vice President Government and Industry Relations
Laura McNichol is Vice President of Government and Industry Relations. In this role, Laura represents Watco Companies' interests in Washington, DC,  working on such issues as the 45G Short Line Tax Credit and protecting the industry against hurtful policies, such as efforts to increase truck size and weight limits. She will also work with various state De
partments of Transportation and state railroad associations in seeking greater opportunities for Watco's short lines.
 
Prior to joining Watco, Laura worked for R. J. Corman Railroad Group and served as the Assistant Vice President of External Relations. In that role, she was a key member of the team that successfully secured a nearly $10 million Tiger VIII Grant for the company's newly acquired Carolina Lines. Prior to R. J. Corman, Laura worked, simultaneously, for GoRail and the Coalition Against Bigger Trucks. She served as Assistant Vice President of Industry Relations for both organizations. Her primary roles were railroad supplier and short line fundraising and development.
 
Laura began working in Washington, DC, in 1998 on public policy where she covered issues such as agricultural, natural resources, and conservation. She worked in state and local government before heading to DC.
 
Originally from New Jersey, Laura graduated from Rutgers University with a degree in journalism. She and her husband, Ted Holbrook, live in Herndon, Virginia. In her free time, Laura enjoys outdoor activities such as walking and hiking, kayaking, fishing, hunting, and golfing.
Short Lines in Texas, Legislative Agenda and TSLRRA: Jeff Van Schaick, Genesse & Wyoming, AVP Government Affairs, TSLRRA Vice President
Jeff Van Schaick, AVP Government Affairs for Genesee & Wyoming Railroad Services, Inc. is responsible for state government affairs covering G&W's western regions.
Prior to that, he spent valuable time at Watco Companies and Chambers, Conlon & Hartwell honing his craft. Van Schaick is a proud Battling Bishop having graduated from The Ohio Wesleyan University.
Short Lines in Texas, Tax Credit Progress in other States: Ryan Pidde, Mickelson & Company, Director  
Ryan Pidde joined Mickelson & Company in May of 2008 and helps lead the railroad tax credit finance practice. Additionally, Pidde works with industrial development clients to facilitate and arrange New Markets Tax Credit financings and provides business valuation and consulting services.
Prior to Mickelson & Company, Pidde worked in the South Dakota Governor's Office of Economic Development (GOED) where he was involved in business development and business recruitment, and arranged financings for a variety of energy, manufacturing, and start-up companies.
Pidde is a 2004 graduate of the University of South Dakota with a B.B.A. in Finance. Pidde is also a graduate of the University of Oklahoma Economic Development Institute (2006) and is also a Certified Valuation Analyst (CVA) via the National Association of Certified Valuators and Appraisers (NACVA).
Pidde serves on the City of Sioux Falls Arena, Convention and Entertainment Center Board (Current Chair) and is a graduate of Leadership Sioux Falls. Pidde also serves on the American Short Line and Regional Railroad Association (ASLRRA) Legislative Policy Committee and is a member of the National Association of Certified Valuators and Analysts (NACVA).
11:30 – 12:00pm   –  BNSF Railway Presentation
Remarks will focus on passenger service and commuter rail principles
D.J. Mitchell, Assistant Vice President, Passenger Services – BNSF Railway   
Mitchell assumed his current position as Assistant Vice President-Passenger Operations upon the completion of the merger between Burlington Northern Railroad (BN) and the Atchison, Topeka, and Santa Fe Railway in 1996.
 He began his railroad career in 1981 when he joined BN as Director-Suburban Services, in Chicago, Illinois.  Prior to that, DJ held various positions in the United States Department of Transportation's Urban Mass Transportation Administration (UMTA), administering at the height of his time at UMTA an annual capital improvement grant and operating assistance program of over $650 million.  As Director-Suburban Services, he led the service and capital investment planning, as well as the management of community relations necessary to support the operations of BN's commuter service operating between Chicago and Aurora, Illinois.  Between 1986 and 1988, he served as BN's Chicago Region Senior Director-Planning and Administration, with region-wide budget, service design and operations analysis responsibilities, and then returned to BN's Chicago commuter service in 1988 as operating Superintendent.
 From 1991 to 1996, DJ was the Assistant to the Chairman of BN, moving to Fort Worth and working on various planning and corporate reorganization assignments that led to the construction of the Network Operations Center in North Fort Worth, the pursuit of positive train control, and the strategy for how BN could grow through the last decade of the 20th Century.  
Today, DJ oversees the operating and capital investment planning, the contract administration and safety management of all commuter rail service operating on BNSF, including the services in Chicago, Seattle, Los Angeles and Minneapolis.  He administers the BNSF/Amtrak operating agreement, works with various states in support of their intercity passenger rail planning and investment programs and participates with others in planning and negotiations related to new-start passenger service on BNSF.  He also manages the corporate business car operations.
Mitchell holds a Masters of Science, Diplomacy, Georgetown University and Transportation Planning and Management Program, The Kellogg Graduate School of Management at Northwestern University
Paul Cristina was named director, Public-Private Partnerships in July 2015. In this role, Paul works to forge partnerships between public entities and BNSF to develop mutually beneficial infrastructure projects that can improve public livability and railroad efficiency. 
After receiving his Bachelor's degree, Paul was commissioned as a Second Lieutenant in the US Air Force and served as a civil engineer officer. He held positions of increasing responsibility within the Base Civil Engineer Squadrons at Tyndall Air Force Base in Florida and Grand Forks Air Force Base in North Dakota, as an executive officer, and in support of Operation Iraqi Freedom. After leaving the Air Force, Paul worked as a civil engineer and planning consultant in Florida and Texas, supporting infrastructure development projects for public and private clients. He was named a "Top 40 under 40" aviation professional by Airport Business Magazine in 2012.
Prior to this appointment, Paul served as network studies manager since joining BNSF in 2013.  
Bachelor of Science in civil engineering, United States Air Force Academy and  Master of Business Administration, Florida State University.   Registered Professional Engineer (AL, FL, MS, ND, TX)
12:00 – 1:30pm  –  Luncheon and Presentations
Talgo – 75 Years Building Trains

State of Transportation – Texas Transportation Commissioner Jeff Austin
Jeff Austin III is a member of the Texas Transportation Commission, which oversees statewide activities of the Texas Department of Transportation. He was appointed commissioner by Gov. Rick Perry on Oct. 20, 2011.
Austin is vice chairman of Austin Bank and Texas NA. He is a board member of First State Bank in Athens, and of Capital Bank in Houston, and a past president of First State Bank in Frankston. He is a board member and past chair of the Texas Bankers Association, a member of the American Bankers Association Government Relations Committee and the Bank CEO Network, an executive committee member and past director of the Texas Lyceum, and a board member and a past president and scoutmaster of the East Texas Area Council of Boy Scouts.
He was the presiding officer of the North East Texas Regional Mobility Authority, and board chair of the Tyler Area Chamber of Commerce. He is also a past board member of the Bob Bullock History Museum, the Tyler Economic Development Corporation, the Better Business Bureau of East Texas, the University of Texas Tyler Business School Advisory Board, the University of Texas Tyler Health Center Development Board, and the Trinity Mother Frances Hospital Foundation.
Austin received a bachelor's degree and a master's degree in Business Administration from the University of Texas at Tyler, and is a graduate of the Southern Methodist University Southwestern Graduate and Intermediate Schools of Banking, and the Harvard Business School Advanced Management Program. Austin has two daughters and resides in Tyler.
The Dallas-Houston Bullet Train: A Progress Report from Texas Central Railway
This exciting and bold private venture will link North Texas and the Houston region with bullet trains capable of speeds up to 200 miles per hour,  linking Texas' two largest population centers with just a 90 minute ride. Is 2018 the year that construction begins?
Tim B. Keith serves as President of Texas Central Partners (TCP), a private, Texas-based company that is developing a high-speed passenger railway that will connect Dallas and Houston.
As a seasoned executive and investor with nearly 25 years of financial and operational experience in large real estate and infrastructure projects, Mr. Keith has developed key relationships and perspectives critical to TCP's success.
Mr. Keith previously co-founded and served as chief investment officer of HKS Capital Advisors, a boutique investment advisory firm founded in 2011. HKS Capital Advisors provides investment advisory services and fund management expertise to high net worth investors with a focus on private enterprise transactions.
Prior to HKS Capital Advisors, Mr. Keith was formerly the Global Chief Executive Officer of RREEF/Deutsche Bank Infrastructure Investments, where he managed the worldwide operations of the firm's infrastructure funds management businesses. He had a 10-year career with RREEF/Deutsche Bank, a New York-based global alternative asset management firm, where he held various senior executive positions and served on the firm's Global Executive Committee. He was a partner of RREEF America LLC, prior to its acquisition by Deutsche Bank and served as chief executive officer of Cabot Industrial Trust after he led its privatization on behalf of RREEF clients.
Previous to RREEF, Mr. Keith served as an executive at Hunt Realty Investments where he helped found, grow, and sell Meridian Industrial Trust.
Mr. Keith currently serves as a member of the Westmont College board of trustees, and was formerly chairman of Maher Terminals, USA board of directors and a member of Maher Terminals' Canada board of directors. He also served on the board of Spark Infrastructure in Australia.
Mr. Keith graduated magna cum laude with a Bachelor of Arts degree in economics and business administration from Westmont College in Santa Barbara, California. He and his wife Susan reside in Dallas and have two children.
1:30 – 1:45pm  –  Break
1:45 – 2:45pm  –  Passenger Corridor Development: I-35 "TOPRS", The Dallas-Fort Worth HSR "Connector" and I-20: the "DFW-Meridian Connection"
Plans for extending passenger rail service from the Dallas-Fort Worth area through East Texas, Shreveport, cities in Louisiana to Meridian MS. An Amtrak connection to Atlanta and the East Coast.  http://www.etcog.org/512/Ark-La-Tex-Corridor-Council.htm
Judge Richard Anderson – Chair – I-20 Corridor Council
Born in Marshall, Texas, Richard Anderson is an attorney, businessman, rancher, former Harrison County Judge, and former Texas State Senator.
He attended Texas A&M undergrad and graduated from Baylor Law School where he served as Student Body President and on the Law Review. After practicing law at Andrews & Kurth in Houston, he returned to northeast Texas and began his private practice, then later entered public service, as well as his work in establishing housing for low to moderate income families across 25 counties, assisting not-for-profit corporations and philanthropic efforts across the state, and heading up a number of major historic preservation projects. 
Judge Anderson serves as Chairman of the I-20 Corridor Council, a not-for-profit, grassroots volunteer organization (formerly the East Texas Corridor Council).
Judge Anderson's wife, Christina Anderson, has worked side-by-side with him on the I-20 Corridor passenger rail efforts and, in June 2017, Amtrak presented the Andersons Amtrak's President's Service and Safety "Champion of the Rails" Award for their work on the proposed I-20 Corridor long-distance passenger rail connection between Fort Worth and Atlanta, as well as their work to help establish the GoVet bus service for veterans, a collaboration with Amtrak and other transportation entities, which launched in East Texas to Shreveport in November 2017.
I-35 Corridor
The Federal Railroad Administration has just released the Service Level Tier I Environmental Impact Statement for passenger rail from Oklahoma to South Texas in the I-35 corridor. The panel will discuss how service will benefit the cities along the route. The Texas-Oklahoma Passenger Rail Study (TOPRS) is now referred to by Texas Rail Advocates as "Empower 35". The North Central Texas Council of Governments has been studying a high speed rail connection between Dallas and Fort Worth to bridge rail service between the I-35, I-45 and I-20 corridors.
William Glavin is a senior project manager at Bridgefarmer & Associates Inc. and responsible for rail business development and project management for the firm. Glavin retired from TxDOT in July 2013, where he served as the director of the rail division.
During Mr. Glavin's time at the helm of the Rail Division, major strides were made in securing federal funding and advancing plans for a high speed rail project from Houston to Dallas, the Texas-Oklahoma Passenger Rail Study (TOPRS) which is now in progress, moving the Dallas-Fort Worth to Shreveport passenger rail study forward, working on an initiative to untangle freight rail traffic at the notorious Tower 55 in Fort Worth, securing funding to upgrade the Heartland Flyer's travel time between Fort Worth and Oklahoma City and other projects. In addition, state funding was secured to upgrade the Texas-owned South Orient Railroad between Brownwood and San Angelo, which has resulted in a economic boom to that region that can now shipcommodities more effectively by rail. Glavin has over 30 years of experience in the rail industry and has worked for Burlington Northern Railroad, North American RailNet and comes to TxDOT after working with Raul V. Bravo + Associates, Inc.

Glavin holds a bachelor's degree in biology from Johns Hopkins and a bachelor's degree in civil engineering from Michigan State. He is licensed as a professional engineer in Wisconsin and Texas.
Craig Moody, is the Rail Programs Division Manager for the Oklahoma Department of Transportation.
He has more than 30 years of experience with the agency.
Moody oversees ODOT's efforts to manage and improve the state's rail system, including the state's partnership with Amtrak to provide passenger rail service on the Heartland Flyer, maintenance of more than 150 miles of state-owned railway and implementing the Oklahoma Statewide Freight and Passenger Rail Plan. 
Kevin's responsibilities at the North Central Texas Council of Governments include managing four regional passenger rail corridor projects and other transportation projects. Prior to that he was Director of Project Development and Planning for the North Texas Tollway Authority. 
Kevin has worked in both the private and public sectors while advancing progressively in the transportation planning profession. His served as a City of McKinney Texas Planning and Zoning Commissioner.
His specialties are building consensus, managing people and projects, developing innovative approaches and transportation planning.
 He is a graduate of Florida State University.
Jessica Attas is Vice President of Public Policy for the Greater Waco Chamber of Commerce, a business organization with over 1600 member businesses, representing 65,000 jobs in the Greater Waco community. She works with key state and federal elected and appointed officials to advocate on issues of community and economic development, and works to engage the business community around those same issues.
Prior to joining the Chamber, she served for three years in the chief executive position for a local nonprofit, AVANCE Waco, more than tripling the staff and families served, while diversifying revenue streams, implementing new systems and management processes, and building new partnerships and collaborations for improved impact and financial stewardship. Jessica enjoys teaching in the Honors College at Baylor University, where she received both her Bachelor's and Master's degree in Applied Sociology, an academic background that informs her work in helping identify policy and program solutions to support community and economic development.
Jessica was recently appointed to the Waco MPO Project Advisory Committee; is a member of Transportation Advocates of Texas; serves as Membership Development Chair for the Rotary Club of Waco (the largest Rotary Club in the district); is a certified trainer and facilitator for the Pew Civic Center's Leadership Plenty Institute; and on the Board of Contributors for the Waco Tribune Herald, to name a few of her volunteer activities. Attas has two sons, and enjoys living and working in what has been called the greatest city in the greatest state in the greatest country in the world!
2:45 – 3:00pm  –  Refreshment Break
3:00 – 4:00pm  –   Urban / Suburban Rail On The Right Track
Two exciting DART projects: D2 downtown light rail and Cotton Belt regional rail corridor:
Timothy H. McKay, a professional engineer who graduated with a BSCE from Michigan Technological University began serving DART as a consultant in 1987. McKay directs the Growth and Regional Development Group which includes Commuter Rail, Capital Planning, Service Planning, Transit Oriented Development, Innovative Services, Construction Safety Program, Capital Quality Program, Rail Program Development, Environmental, System Integration and Safety Certification and Light Rail Train Vehicle Design and Assembly.
Notable projects include the 28-mile, 20-station Green Line light rail project (the longest light rail expansion in North America), the Platinum LEED-rated DART Police Headquarters at Illinois Station (conversion of Monroe Shops, listed on the National Register of Historic Places), and the 3.5-mile long Trinity Railway Express Belt Line Grade Separation Project which utilized composite railroad crossties. McKay is a Registered Professional Engineer and Member, American Society of Civil Engineers. He holds a B.S. Civil Engineering, Michigan Technological University
TEXRail's Fort Worth to DFW Airport project. Target date for service December 2018:
Paul Ballard has been President and CEO of the Fort Worth Transportation Authority (FWTA) since 2014.
He came to FWTA after serving 12 years as President of Nashville Metropolitan Transit Authority and the Regional Transportation Authority in Middle Tennessee.
He holds a B.S. Degree in Business, Transportation and Public Utilities Management from the Indiana University School of Business and an MPA Degree from Webster University in St. Louis.
Houston MetroRail: My how we have grown
Eduardo Miranda Jr.,  Vice President Government Affairs – Metropolitan Transit Authority of Harris County
Eduardo Miranda, Jr. currently serves as Vice President of Government Affairs for the Metropolitan Transit Authority of Harris County (METRO). Eduardo oversees the agency's legislative strategy at the local, state, and federal levels and all interaction with elected officials.  
Prior to joining METRO, Eduardo served as Director of Public Policy for the Greater Houston Partnership (GHP), Houston's largest business advocacy organization. GHP's mission is to enhance Houston's business climate, economic development, and quality of life.  Throughout his tenure at GHP, Eduardo managed the transportation policy portfolio for the organization, including road, transit, freight rail, commuter rail, airport and water port infrastructure. 
Eduardo has over 13 years of policy experience including three and a half years working as Chief of Staff, for Texas State Representative Joe Pickett where he oversaw legislative policy.  He also served as Director of Public Policy for the Greater El Paso Chamber of Commerce where he was responsible for transportation, military, border affairs, and local infrastructure policy issues. 
Eduardo received his Bachelor of Arts degree in political science from Rice University. He is a graduate of Leadership El Paso Class 30, served as a founding board member of the United Way of El Paso Young Leaders Society, and served as a board member for the Amigo Airsho.
4:00 – 4:30pm  –   Positive Train Control: The U.K. Flavor  
The U.K.'s national rail owner/operator, Network Rail, presides over Europe's fastest-growing and safest railway. How does the European Train Control System (ETCS) compare with PTC now being installed in the U.S. What will Positive Train Control mean for us? Thoughts & Insights.
Mr. Black has extensive industry and operating knowledge and prefers to work in a challenging, fast-paced transportation operations environment.
He has over 30 years of experience in the public transit and passenger rail industries in a variety of executive, operating, management, safety, consulting and planning/analytical positions.
Mr. Black has experience in public presentations and public speaking, both in the railroad and public transportation industries, and with volunteer and community organizations.
Combined over ten years' experience in emergency services (firefighter / EMT).
4:30pm  –  Closing
$100 each Cash Drawing for two lucky attendees – must be present to win
---
A Special Thanks to Our 2018 Sponsors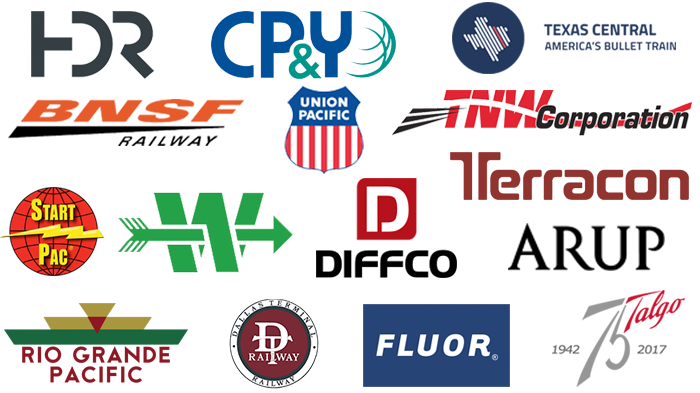 ---
Registration closed on Monday, January 15 at 11:59pm. To be placed on a "standby" list email taylor@texasrailadvocates.org. You will be notified within 24 hours if seats are available. 
$329.00 Includes Thursday evening Networking & Dinner and All-Day Friday Presentations – including light breakfast and buffet lunch / $109.00 Thursday evening Dinner only / $229.00 Friday All-Day Presentations including light breakfast and buffet lunch
The host hotel will again be the Magnolia -Park Cities on North Central Expressway in Dallas, across from SMU and the Bush Presidential Library. The room block at a reduced rate has been filled and no longer available.
For sponsorship opportunities for the Southwestern Rail Conference and other Texas Rail Advocates events contact Bernie Rodriguez at 469-569-0136 or bernie@texasrailadvocates.org for details.
---
The 2018 conference is dedicated to the memory of Board Member Paul Mangelsdorf who passed away this past year. Paul, the first elected President of Texas Rail Advocates and a founding member in 2000, was an ardent rail advocate who dedicated himself to improving transportation in Texas.
---
TRA is a 501(c)3 not for profit. Our continuing work of educating and informing the pubic and private sector on the benefits of freight and passenger rail come from conference registrations, sponsorships and financial contributions from private citizens and the business community.
---
Texas Short Line and Regional Railroad Association Annual Meeting
is held in conjunction with the Southwestern Rail Conference at the Magnolia Hotel. January 18, 2018
Texas Transportation Commissioner Victor Vandergriff will be the keynote speaker at the January 18 luncheon.
Contact TSLRRA for more information