April 19, 2023 - TRA Newswire -
If the Federal Railroad Administration approves Corridor Identification programs for the nation's passenger rail service, Amtrak, Texans could look forward to more trains between Lone Star cities.
Ambitious plans include making the Sunset Limited, now a tri-weekly train that parallels the I-10 corridor, into a daily service; extending a leg of the Crescent service from the east coast to the Dallas-Fort Worth market; and developing conventional corridor passenger rail within the "Texas Triangle" of DFW-San Antonio-Houston. Grant applications were submitted in March and the FRA is expected to announced the first round of grants sometime later this year.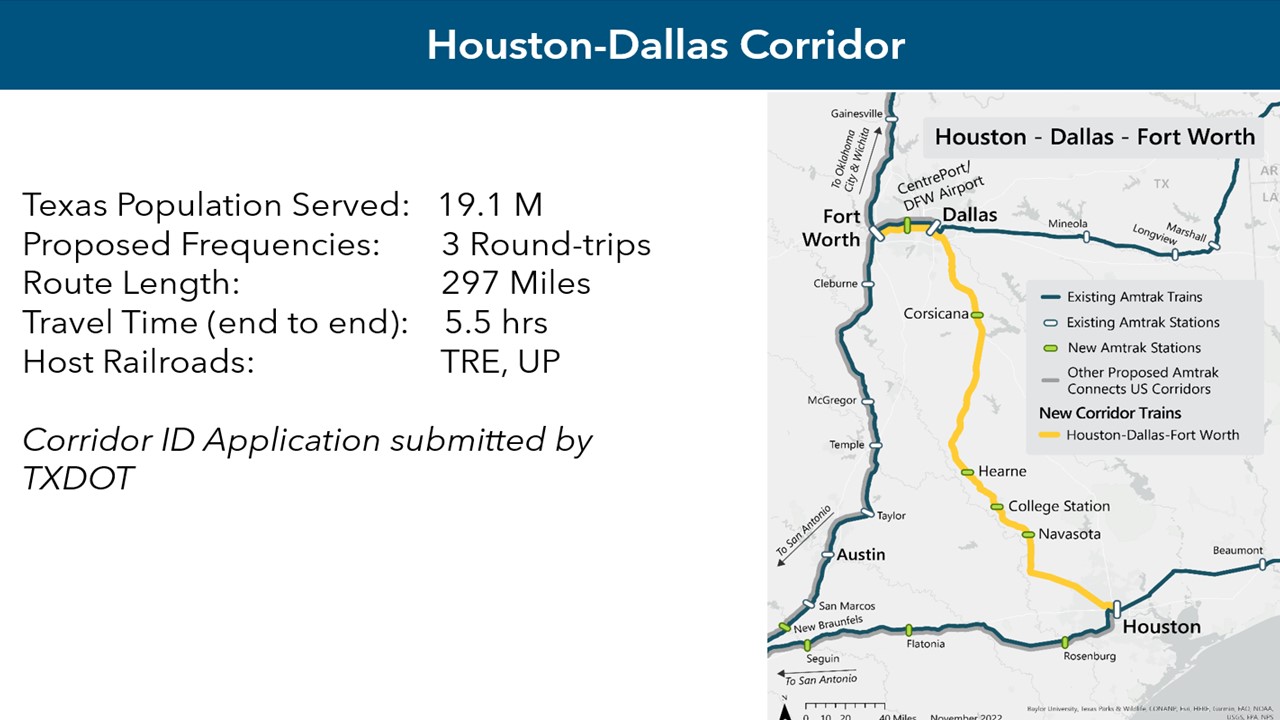 Planned services would reach about 15 million Texans on the DFW-Austin-San Antonio corridor with a new stop planned for New Braunfels.
There are 19 million people within the service area on the DFW-Houston corridor with intermediate stations at Corsicana, Hearne, College Station and Navasota.
A population base of 13 million from Houston and San Antonio could be served with intermediate stations at Rosenberg, Flatonia and Seguin.

Speaking at the Southwestern Rail Conference in Hurst, Amtrak's Vice-President of Network Development Nicole Bucich said "my team at Network Development is a new function at Amtrak and is an output of the bipartisan Infrastructure Bill. We are responsible for facilitating all of Amtrak's network expansion across the entire county from the earliest planning stages through implementation." Bucich said " we are overseeing a team that includes state supported services, government affairs, corporate communications, host railroads and all the folks with Amtrak that play a role in corridor expansion."

Bucich said that Amtrak is playing a critical role "but it really is the states that have to take the driver's seat in a lot of these initiatives that are in front of us."
The Texas Department of Transportation's Rail Division has already applied for the FRA Corridor Identification program for development of passenger rail service between Dallas-Fort Worth and San Antonio; San Antonio and Houston; and Houston to Dallas. In addition TxDOT has issued a letter of support for the Crescent extension which would enable daily service from the Dallas-Fort Worth market to Meridian, Mississippi and join the existing daily train to Atlanta and the east coast. If the FRA approves TxDOT's filings, each entry would receive a $500,000 fully federally-funded planning grant.

The Corridor ID program is step one. "Step two is the service development plan and this is where a lot of the technical analysis takes place", according to Bucich. "It includes the feasibility of the route, what capital investment would be needed to run the proposed level of service. This step is a 90% federal, 10% local match. This is unprecedented."
Step three is the preliminary engineering and environmental analysis, which is an 80% federal match. There are other federal programs to help states with final design, construction and operation.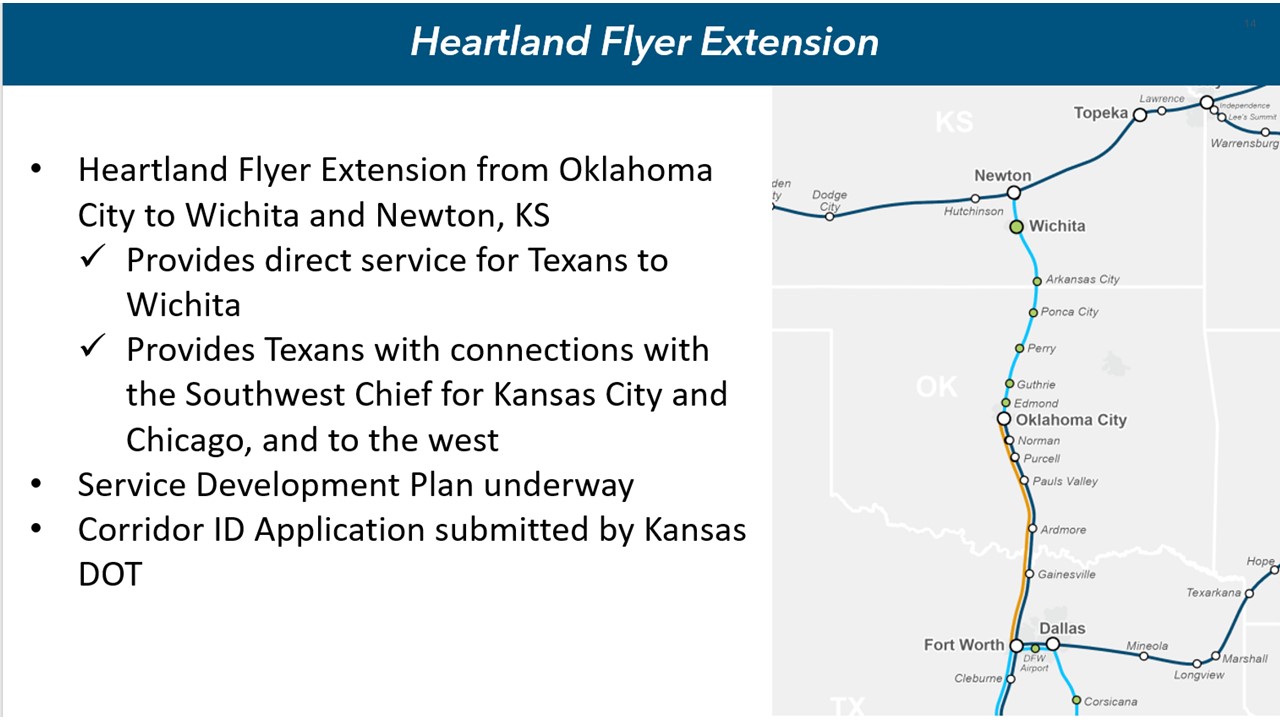 Bucich pointed out that an extension of the existing Heartland Flyer route from Fort Worth to Oklahoma City is moving along with the Kansas Department of Transportation initiating a service development plan and submitting a Corridor ID application. The present service from Fort Worth to Oklahoma City is a partnered service of the Texas and Oklahoma Department of Transportation. The extension would serve additional Oklahoma and Kansas cities including Wichita and connect to Amtrak's national network at Newton, Kansas.
The I-20 Corridor Crescent Extension would provide Texans access to cities in Northern Louisiana, Mississippi, Alabama and onward to Atlanta and east coast cities. Amtrak is taking the lead on the Federal-State Partnership application along with the Southern Rail Commission and with support of the Louisiana Department of Transportation. Amtrak's Crescent is a daily train from New Orleans to New York. The western leg of the Crescent would run from Fort Worth, through East Texas to Shreveport and Monroe in Louisiana; and Jackson, Mississippi to Meridian, where trains would join or split.
Amtrak's plans to expand service to a state that continues to grow by leaps and bounds had been hamstrung in past decades.

"This is quite a turnaround from several decades of route cuts and diminished service, from Congressional indifference and U.S. Presidents trying to zero out their budget," according to Texas Rail Advocates President Peter LeCody. "Previous administration attitude was that Amtrak must turn a profit, not realizing that the service provided to hundreds of underserved small and medium size towns and cities is where the profit shows up in economic good for those areas."
Even with skeletonized service of one round-trip a day on two Amtrak Texas routes and one-round trip three times a week, total ridership in fiscal year 2022 totaled 153,150 passenger trips.

To comply with the Americans with Disabilities Act, Amtrak is making a $50 million dollar investment in Texas stations. Work has been completed at Longview, McGregor (Waco), Temple, Alpine, Beaumont, Fort Worth and Sanderson stations. ADA compliant construction is underway at the Del Rio Station and design work is being accomplished at Austin, Houston, Mineola, Cleburne, El Paso, Gainesville, Marshall and Taylor locations.