May 6, 2023 - TRA Newswire -
An April 26th Opinion Column in the Houston Chronicle intimated that because some signs say "locomotive cabs may be unoccupied" they pose a danger when Union Pacific trains are moved from one nearby yard to another in the city. The newspaper article immediately raised concern from citizens and officials.
Union Pacific has countered with the assurance that there are no "crewless trains" in UP's fleet and the claim "is simply not true". Remote controlled trains, run by qualified engineers on the ground, have been operating at low speeds in rail years for 20 years.
"The technology has garnered widespread acceptance within the railroad industry and is as safe or safer than conventional operations, with the Federal Railroad Administration (FRA) recently saying they had no specific concerns about its use", according to Union Pacific in a news release. Several Texas Rail Advocates board members observed the operation of a low-speed remote-controlled locomotive several years ago during a UP employee family appreciation day in Fort Worth and found the process to be quite impressive. Remote-control is used at other Texas facilities including the SoSan Yard in San Antonio.

The column, authored by Eddie Hall who is said to be a railroad employee, stated that "Union Pacific moves a train of up to 80 cars - many of them filled with ethanol, liquid petroleum, and a variety of highly toxic materials - from its Settegest Yard to the nearby Basin Railyard and travel over railroad crossings, under I-610 and skirt residential neighborhoods." The article claimed that if cars derailed Houston would face the same type of emergency that occured when a train derailed in East Palestine, Ohio.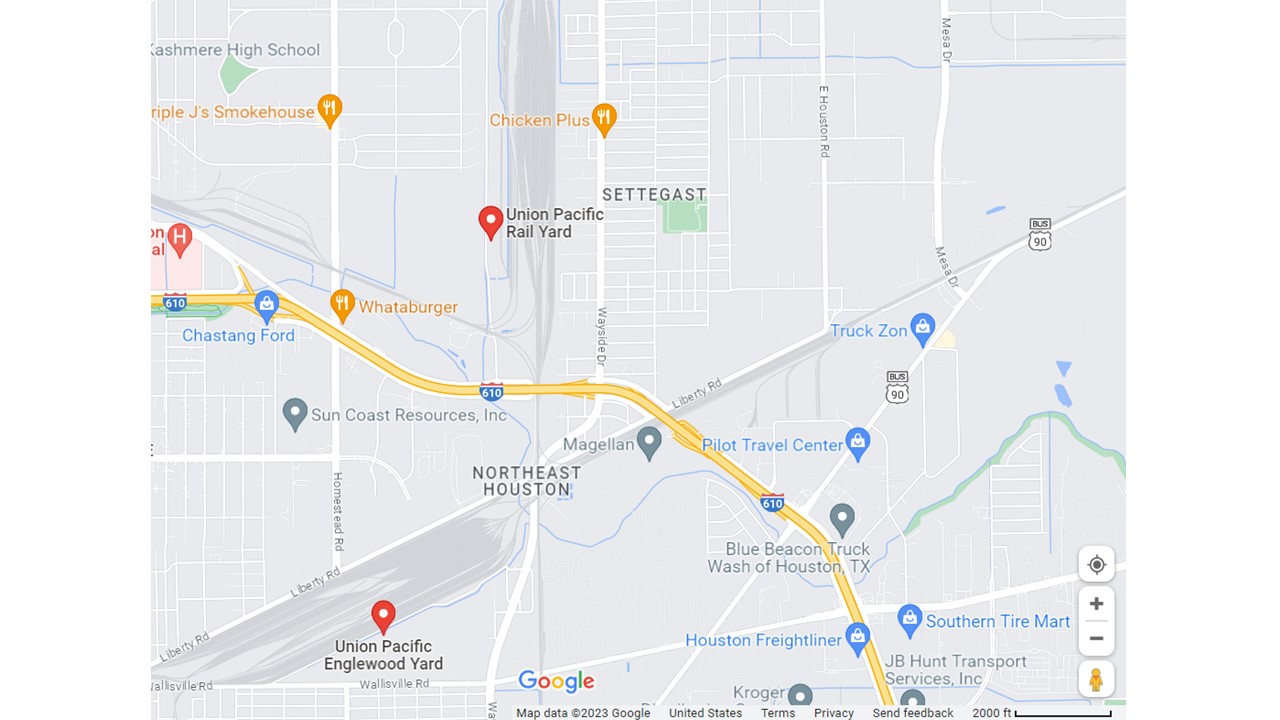 Google Maps show that the distance from one end of the Settegest Yard to the start of the Basin Railyard (Englewood) is somewhere around 2,000 feet and tracks appear to cross one street between the two classicification yards.

UP stated that remote-controlled locomotives move slowly and are used in a limited capacity in and around rail terminals, including Houston. Remote-control locomotives are always operated by a craft professional, or union employee, who has been trained and certified in compliance with FRA guidelines. These are not the type of crewless train being tested in Europe that use artificial intelligence to "think" for itself and operate with the help of sensors.

Remote-control locomotives are controlled by one or two operators standing on the ground near the train or on the locomotive itself. UP said "we use this technology extensively in our railyards where the operator moves trains within yards or between yards onto different tracks – the railroad terminology is switching – so the cars can be broken down and rebuilt into trains. In Houston, employees control the remote-control movements between Union Pacific's multiple classification yards, industry support yards and customer facilities, but the operator is always on board and always in control of the train."
Union Pacific data, which is reported to the FRA, shows remote-control operated yard and local trains in Houston have a lower rate of derailment than conventionally operated yard and local trains.
A benefit of the technology is that it most often puts one person in charge of a train's movement. When the conductor wants a train backed up 40 feet, they can reverse the locomotive and stop it precisely at a given point, instead of having to telegraph directions multiple times with another employee over a radio. UP said In the event of a derailment, the remote-control locomotive operator is trained to do exactly what the crew of a conventional train crew would do: get to safe location on the ground, report the incident to Union Pacific's 24-hour emergency control center and wait for assistance.
The statement said that "Union Pacific is proud to be part of the robust Houston economy. We have been a part of Houston for more than 160 years and we are committed to the safety and security of the city's residents, our employees and the critical goods we carry."
Photo credit: Union Pacific