June 14, 2023 - TRA Newswire -
Increasing service from tri-weekly to daily on Amtrak's combined Sunset Limited / Texas Eagle route through Texas would result in a positive economic impact to the cities and towns that the train serves. That's according to an IMPLAN Economic Modeling analysis prepared by DC-based Rail Passengers Association.
The results of the analysis were part of a statement submitted June 6th to the U.S. House Transportation and Infrastructure Subcommittee on Railroads, Pipelines and Hazardous Materials hearing, Chaired by Congressman Troy Nehls (R-TX-22).
Annual local, state and federal tax revenue generated by increased train service on the I-10 corridor train would results in a gain of over $5.3 million dollars. Economic benefits from the analysis show gains in visitor spending along with reduced road maintenance, reduced traffic costs, lower pollution levels and additional jobs created.
According to the rail advocacy organization's Congressional statement which was submitted by President and CEO Jim Mathews, a relatively simple improvement in the pipeline would increase service from the current three times weekly to a daily train on the route of the Sunset Limited and Texas Eagle between California and Illinois. "This simple step is among several Amtrak is proposing in the first round of IIJA-enabled service improvements, and our economic-benefits modeling suggests just including those additional trains could generate as much as $2.4 billion over 10 years in visitor spending in hotels, restaurants, and retail, avoided road maintenance, and supported jobs — $144 million each year in Texas alone, and some $239 million each year to the eight states served. That's at least four times as much as we would spend each year to operate it."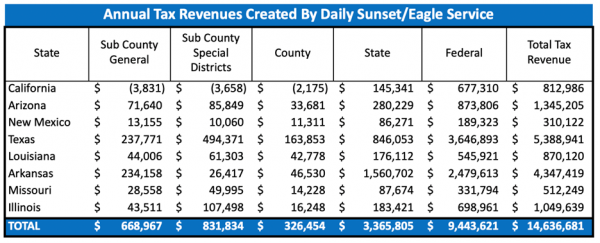 Fresh with funding from the Bipartisan Infrastructure Law passed by Congress, Amtrak CEO Stephen Gardner outlined areas where expanded service is needed, including in Texas and Southern states that are seeing a large population influx and increased business interests.
Subcommittee Chairman Nehls put a damper on Gardner's vision and called on Amtrak to focus on existing service and challenges rather than on plans for future expansion. While Amtrak is recovering from lost ridership and revenue during the pandemic, Nehls hit on Amtrak not being profitable while Gardner replied that the railroad was at a break-even point before Covid struck.
"Amtrak's passenger expansion efforts should not be allowed to obstruct the critical movement of freight railroads," Nehls added. "Any potential expansion of Amtrak's system must allow for freight railroads to provide input on capacity and track-sharing issues"
The Sunset Limited operates three times a week between Los Angeles and New Orleans along the busy I-10 corridor and connects with the daily Texas Eagle at San Antonio that serves cities and towns northward to Chicago. Feeding additional traffic on a daily basis from the Eagle to the Sunset route would see a significant jump in ridership and revenue, according to the rail passenger organization's statement.

In the Congressional submission it was noted that "Intercity rail plays an important role in these rural communities; almost one-fifth of Amtrak's passengers travel to or from a rural station with no access to air service, and private-sector airlines are abandoning huge parts of the U.S. that include those communities, making these citizens even more reliant on the service that Amtrak provides". For instance, Del Rio Texas, served by Amtrak three times a week, recently lost its only scheduled airline service with American Eagle flights to DFW Airport.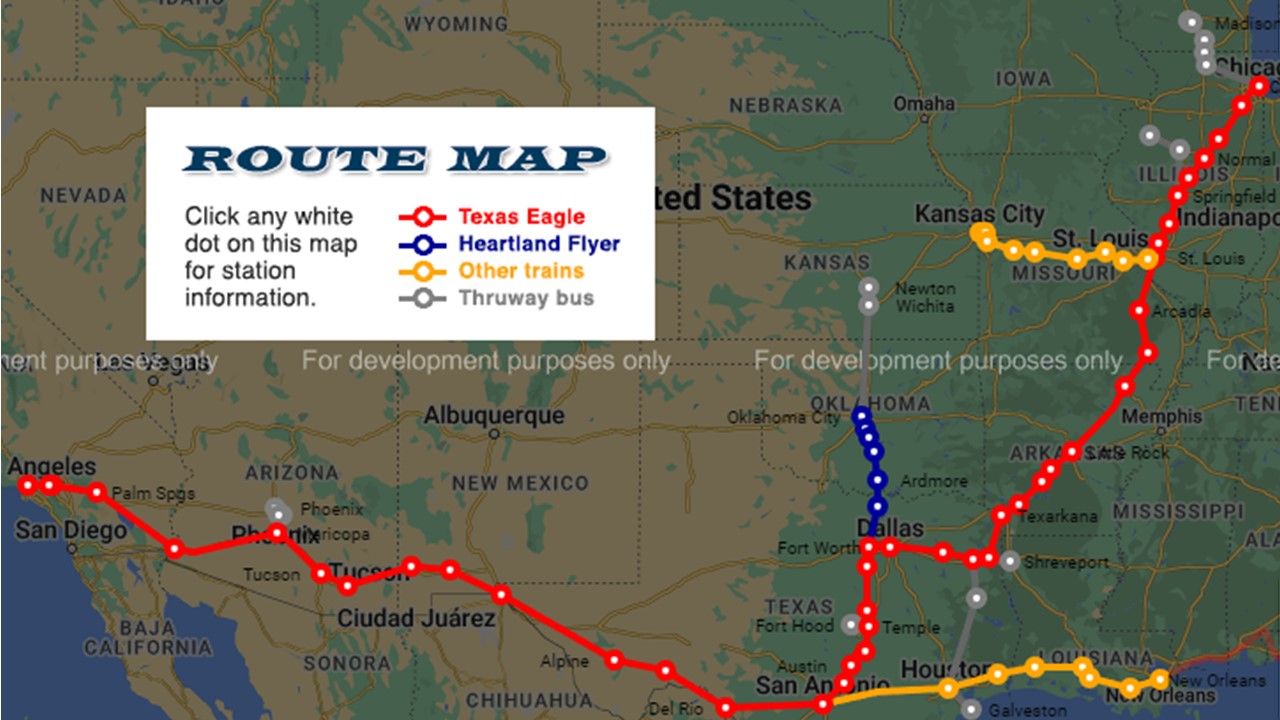 Del Rio officials, along with others from El Paso, Alpine, Sanderson, San Antonio, Houston and the Beaumont area previously submitted letters of support for daily service on the Sunset route. Other South Texas cities with poor intercity transportation options have shown interest in the Sunset serving their cities. They include Rosenberg, Columbus, Flatonia and Seguin, all located between Houston and San Antonio.
"Congress has finally provided enough funds to do more than simply study improvements", according to Mathews. "They wisely structured those rail investments to ensure that the Federal Railroad Administration (FRA) and the states are able to partner with Amtrak to meet locally identified needs. We believe this will also ensure that Amtrak is focused on improving efficiency and service in ways that states and localities believe is best."
In his statement Mathews said "The need for more robust rail infrastructure is real. We have seen an unprecedented response from local governments to the FRA's request for submissions to the Corridor Identification Program — from coast to coast, from America's Heartland, from Red States and Blue States. We are particularly heartened by the response from the Southeastern U.S. and Sunbelt, which has seen a disproportionate level of population growth over the past 50 years. Texas, Oklahoma, Georgia, Florida, North Carolina, and the Commonwealth of Virginia have all been active participants in the IIJA's passenger rail programs, to name just a few", according to the rail advocacy leader. "Passenger trains have an important role to play in helping these metropolitan regions accommodate economic and population growth, while simultaneously ensuring that rural Americans continue to have access to essential services."
Map and photo credit: TexasEagle.com