February 1, 2023- TRA Newswire -
The start date for future rail service on the 26-mile Cotton Belt Regional Rail Corridor has been pushed back to late 2025 - early 2026 due to a myriad of issues. The Dallas Area Rapid Transit (DART) Silver Line, as it will be called, has run into supply, labor, construction, freight railroad agreements and jurisdictional woes, not unlike any project of major significance.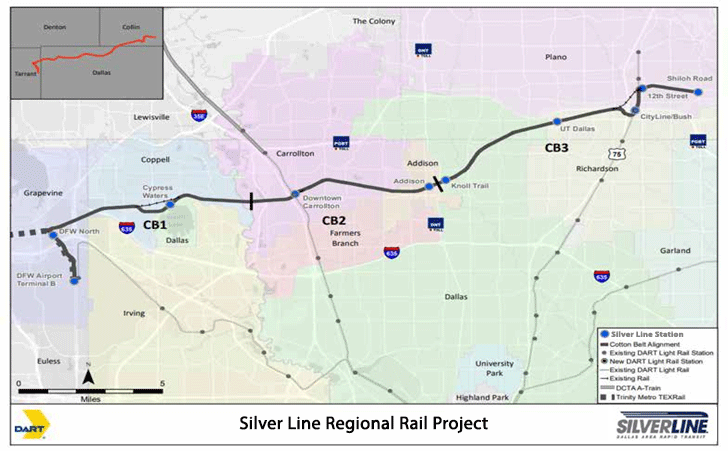 The delay was announced during public meetings last week across Northern Dallas county.
Although DART will dispatch trains along the entire double-track corridor, agreements with five freight railroads had to be meticulously hammered out to provide windows for the companies to service shippers along the route. Supply chain issues with available materials, a shortage of qualified laborers, and changes from flyovers to at-grade crossings at two North Dallas major streets, Custer and Jupiter Roads, have led to delays. A two-year bout of Covid delays did not help either. One change will allow for a layover track at the Shiloh Road terminus, allowing trains to be readied overnight for early morning departures.
There is some good news, however. The first of the fleet of 8 DMU-powered trains to operate on the rail line is expected to arrive before the end of this winter, giving DART the opportunity to do trial runs once tracks and stations are completed. The Stadler-built trains will be serviced and stored in at the Denton County Transportation Authority's A-Train facility in Lewisville.
Each train will be able to hold 230 passengers and will be wifi-equipped, with room for luggage, bikes and strollers. The $1.899 billion dollar design-build project, is being handled by Archer-Western-Herzog. The line will serve an estimated 210,000 jobs within a half-mile of the corridor.

Chris Walters, from DART Community Relations, took questions from attendees at the public meeting held on the University of Texas Dallas campus, many of those were focused on the proposed train frequency. The DART Board has proposed 30 minute peak service and hourly off-peak service, according to Walters. UTD students voiced concerns over trains not scheduled to run after 9pm when classes end at 9:45pm and connectivity to the DART bus network with infrequent off-peak rail service. The campus now has an enrollment of 31,000 students.
The Silver Line is being built as Class 4 welded-rail track with concrete ties, capable of running up to 79 miles per hour, and is required to have Positive Train Control, which prevents trains from colliding with each other. A trip from the Shiloh Road station in Plano to DFW International Airport Terminal B is expected to take about one hour. At the airport, DART will share platforms with Trinity Metro's TEXRail trains that run to downtown Fort Worth.

Construction has been underway with some of the stations scheduled for completion in 2023 while track work including bridges and overpasses continues. Every at-grade crossing will be a quiet-zone where trains will not sound horns because of advanced crossing protections. Sound absorbing walls up to 15 feet high will shield nearby homes and businesses from train rumbles. A hike and bike train will parallel the Silver Line for the entire 26 miles across three counties.
The Silver Line will connect with DART's Green Line light rail at downtown Carrollton and with Red/Orange line trains at the City Line/Bush Turnpike station.
Questions about the rail line can be directed to silverline@dart.org
Photo credit: DARTonal Rail Corridor will be known as the Silver Line