May 26, 2023 - TRA Newswire -
The Federal Railroad Administration has issued a safety advisory following a National Transportation Safety Board preliminary report on a crash involving two Union Pacific trains in Chico Texas, 45 miles north of Fort Worth.
According to the FRA advisory, on April 16 a UP train "operating at speed encountered a switch improperly lined into a yard track, which was occupied by a stationary train. The incident resulted in the derailment of three locomotives and twelve grain cars, with both members of the crew sustaining serious injuries." No railcars were carrying hazardous materials.
The FRA and the NTSB continue to investigate the collision that occurred in dark territory that did not require Positive Train Control overlay. It appears that the hand-thrown switch for the yard track was not returned to its normal position to protect mainline trains.
The Union Pacific train was clocked at 48 miles per hour, which is below the posted speed for the Duncan subdivision. The engineer was able to apply emergency braking before reaching the switch and was able to slow the train to 35 MPH when it hit the parked train in yard track C-4.
Initial damage to equipment, track, and infrastructure is pegged at about $5 million.
Southbound train GSHFCC-15 had two locomotives at the head end with 103 loaded hoppers of grain and a locomotive used for distributed power midway in the consist. The parked train, RDACO-14, had damage to locomotives and an empty gondola car.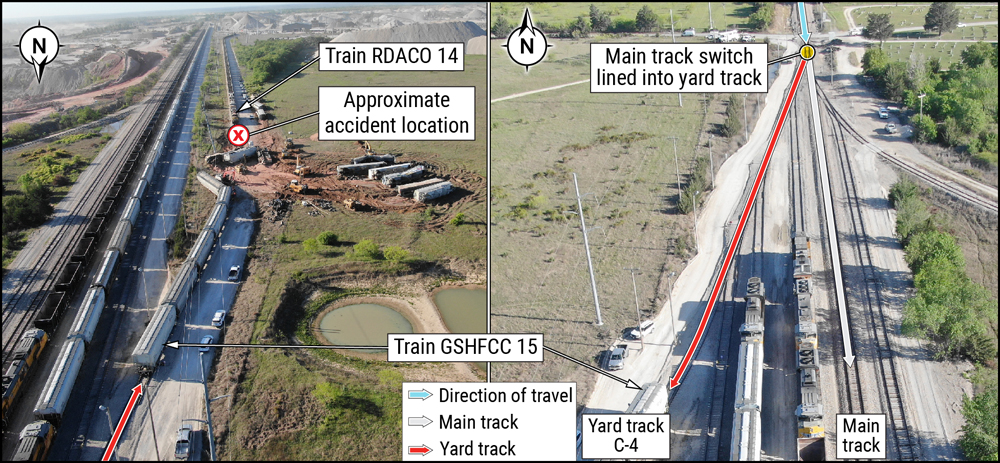 According to the safety bulletin "FRA requests that railroads review this Safety Bulletin with employees and contractors to


increase awareness of hand-operated main track switches in non-signaled territory. FRA also reminds railroads of the need to ensure all individuals involved in operating hand-operated, main track switches are properly trained and qualified on how to conduct those operations safely."
Photo credits: Fox4DFW (main); FRA (story)