September 23, 2023 - TRA Newswire - A rail embargo at the Union Pacific Eagle Pass, Texas bridge has been lifted by U.S. Customs and Border Protection today, allowing 24 backed-up trains to start moving again.eth Whited survey the railroad bridge in Eagle Pass, Texas
The humanitarian border crisis prompted a shutdown of rail traffic after illegal stowaways on freight cars resulted in six deaths and serious injuries earlier in the week, as reported by Mexican railroad company Ferromex.
Union Pacific CEO Jim Vena, President Beth Whited, Executive Vice-President and CFO Jennifer Hamann and others traveled to Eagle Pass to understand the migrant crisis firsthand, understand its impact and identify ways to get trains moving again.
Twenty-four trains spanning 168,700 feet, including about 2,400 cars weighing a total of 240,000 tons, are being held on the north and southbound sides of the border. The business mix at the interchange includes agricultural, food and beverage products, automotive vehicles, consumer goods, and other industrial commodities. Given the closure, the company issued an embargo earlier this week and notified customers. Union Pacific's five other gateways remain open; however, they cannot handle the additional traffic from this crisis.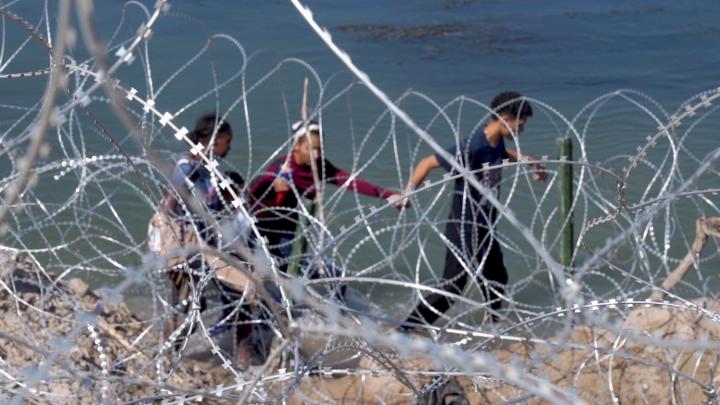 According to a Union Pacific news release, "seeing and hearing the depth of this humanitarian crisis firsthand – vs. watching from thousands of miles away – was sobering. When they arrived at the border crossing rail bridge, the team witnessed a family of three attempting to cross. The mother had a small baby in her arms and fell into the razor wire, and a man was swimming across the river with a child on his back – the scene was heartbreaking to witness."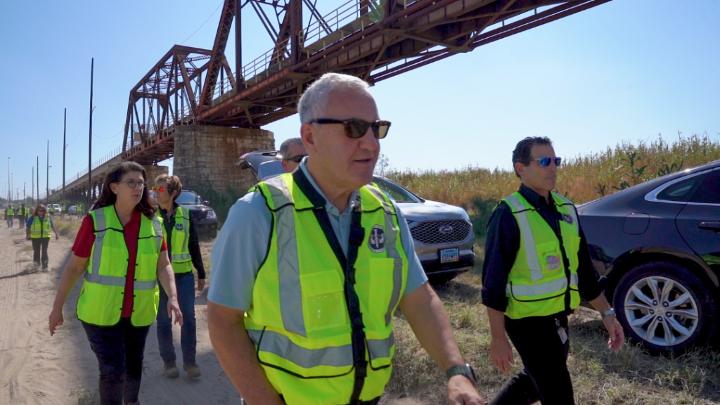 "After leaving the bridge, Union Pacific met with more than 20 stakeholders and first responders, including Mayor Rolando Salinas, Maverick County Judge Ramsey English Cantu, CBP interim port director Pete Beattie, the assistant fire chief, police chief, border patrol (Homeland Security) and several members of their teams," according to Union Pacific. "The group listened to the challenges the police force, customs officers and emergency response teams have been managing on a daily basis. Hearing from the first responders made it clear the gravity of this humanitarian crisis is beyond any one community or company. This complex crisis requires significant intervention and support from policymakers in Washington, D.C."
Meanwhile, this crisis continues to impact Union Pacific operations and the company is taking the following actions:

Part of the outreach described above includes working with FXE to identify solutions, and with impacted customers to problem-solve – some agriculture customers have already reached out to their trade organizations to emphasize the severity of this issue. The team is also conducting significant outreach to Congressional allies for support and to identify avenues to others in the administration who may be able to help. Vena is personally making phone calls this evening and throughout the weekend to do everything possible to shine a light on these challenges.
Shortly after the trip ended, Union Pacific was notified by U.S. Customs and Border Protection the suspension of rail traffic is ending and will resume its normal flow on Saturday, Sept. 23, at midnight. Union Pacific and its leadership understand this humanitarian crisis remains significant.
Photo credit: Union Pacific. Lead photo Jim Vena and Beth Whited