July 4, 2023 - TRA Newswire -
Buck Russell is a Senior Supervisor, Public Safety for Union Pacific Railroad.
In his words..... My story begins back when I was a police officer in South Texas 26 years ago. I was dispatched to investigate a highway grade-crossing collision that left an automobile mangled and a train crew shaken. After interviewing the train crew, we talked about railroad careers, and, as they say, the rest is history.
Once a railroader, I never imagined I personally would be involved in a train versus vehicle or pedestrian incident, believing such occurrences were rare. But according to the Federal Railroad Administration (FRA), a person or vehicle is struck by a train on average about every three hours.
As a locomotive engineer, I personally was involved in two train vs. pedestrian incidents and one highway grade-crossing collision. Those incidents not only impacted members of the community, they also impacted me emotionally -- forever burning the memories into my mind and sparking a passion to educate the public about rail safety.
Prior to those incidents, I received Operation Lifesaver training from Texas Operation Lifesaver – a non-profit organization dedicated to public rail safety education. I started conducting rail-safety presentations around San Antonio on my off-duty time hoping my message was saving lives. I quickly discovered how much I enjoyed public speaking – and the bigger the audience, the better.
Good thing, too, because in 2010 the oil-and-gas exploration boom struck the Eagle Ford Shale in South Texas. Heavy, slow-moving traffic became common throughout the rural areas, including over grade crossings that weren't designed to accommodate huge equipment transports and sand-and-water tanker trucks. With the truck drivers not understanding the dangers, these large vehicles often became high-centered on grade crossings and as a result, the number of collisions increased, inflicting damage and injuries to my fellow employees and community members. A lack of safety education directed toward area truck drivers clearly was a factor.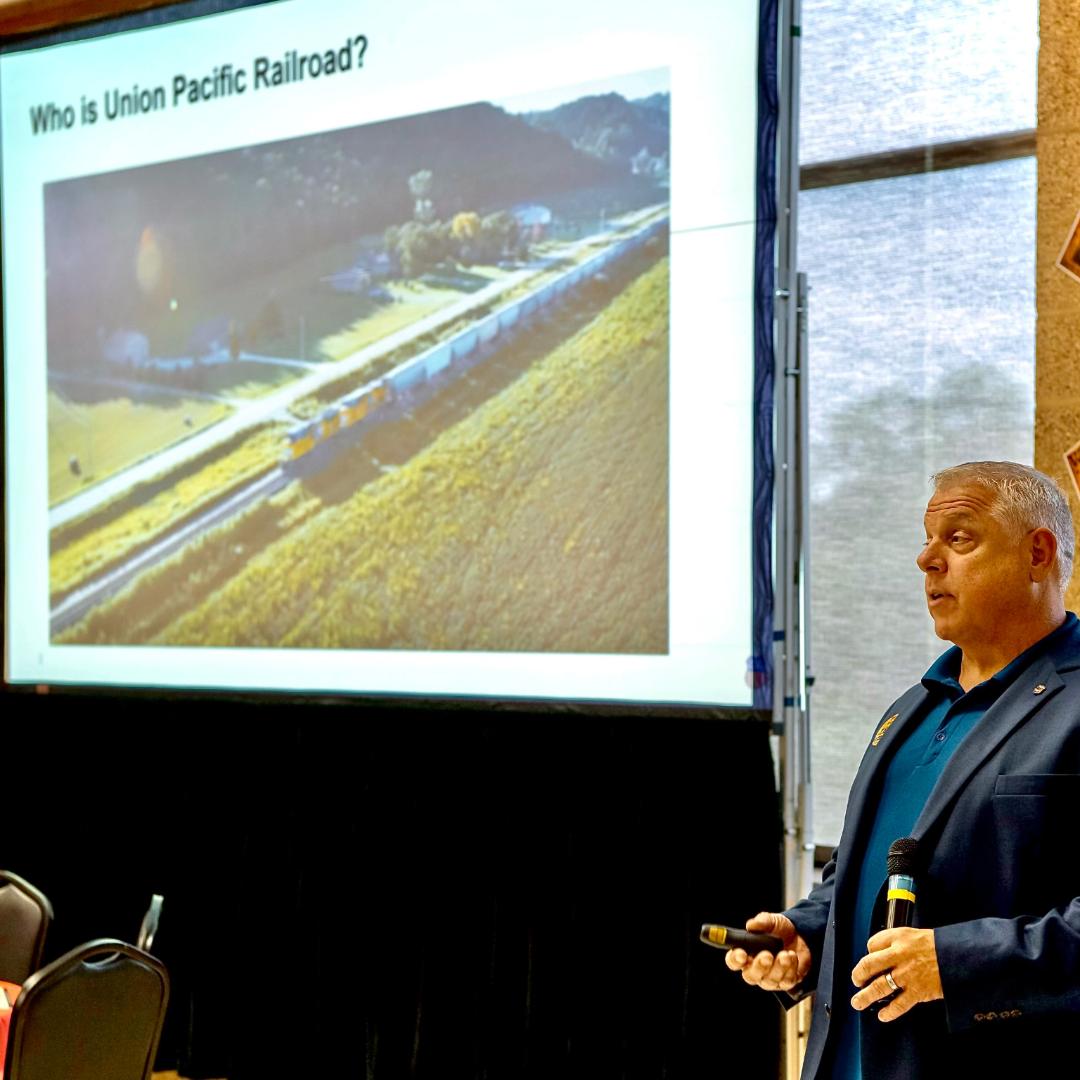 Out of this situation, the Union Pacific Crossing Accident Reduction Education and Safety (UP CARES) program was created in 2015. The program became a valuable education tool to direct targeted, one-of-a-kind rail safety messages to truck drivers. Over time, UP CARES grew from one-on-one visits to South Texas businesses to becoming a systemwide rail safety program with 126 active Union Pacific presenters. UP CARES provides a consistent, branded rail safety message in the 7,300+ communities where Union Pacific operates; and its message has evolved to become suitable for all audiences.
The message is simple: Always expect a train at a railroad crossing. Stay away from trains and other railroad property, including trestles, yards and equipment.

UP CARES volunteers work hand-in-hand with safety educators from Operation Lifesaver, Safe Kids Worldwide and the Texas A&M Transportation Institute. As a joint team, we review grade-crossing and pedestrian incident trends and devise targeted messaging to combat those trends.
For my UP CARES presentations, audiences have ranged in size from a handful of children at a rural school classroom to conventions, summits and conferences. My largest audience was speaking on the Sirius/XM show "Raw Dog Trucking" that reached over 1.3 million listeners. That said, no one group is more important than another.
Since its inception, more than 1,400 UP CARES presentations have been made to over 185,000 people. The program has grown to include rail safety booths, community events, media events, officer-on-the-train events and positive reinforcement at grade-crossings. Through it all, the program and its 126 volunteers have had one simple goal: zero grade-crossing or pedestrian incidents – not only on the Union Pacific system but at all railroads.
For more information, go to UPCARES.com to download rail safety PSA's and find additional rail safety information and links to our rail safety partners.
Photo credit: Union Pacific