Updated April 22, 2023 - TRA Newswire -
The days are dwindling down for the 88th Texas legislative session and there has been nary a dollar set aside yet for state rail funding so Texas can compete for the billions in federal rail grant programs under the Bipartisan Infrastructure Bill.
Texas Rail Advocates is asking you to CALL the office of your State Senator and State Representative and mention that the legislature forgot to add funding for rail projects in the current session. $75 million is the "ask" and have the staffer you talk to Google Fair Share For Rail for the details. Find your elected officials here: https://wrm.capitol.texas.gov/home

A Budget Conference Committee has been named with five representatives of the Texas House and five members of the Texas Senate. House conferees are Greg Bonnen , Mary Gonzalez, Jacey Jetton, Gary VanDeaver and Armando Walle. Senators are Joan Huffman, Robert Nichols, Lois Kolkhorst, Brandon Creighton and Charles Schwertner.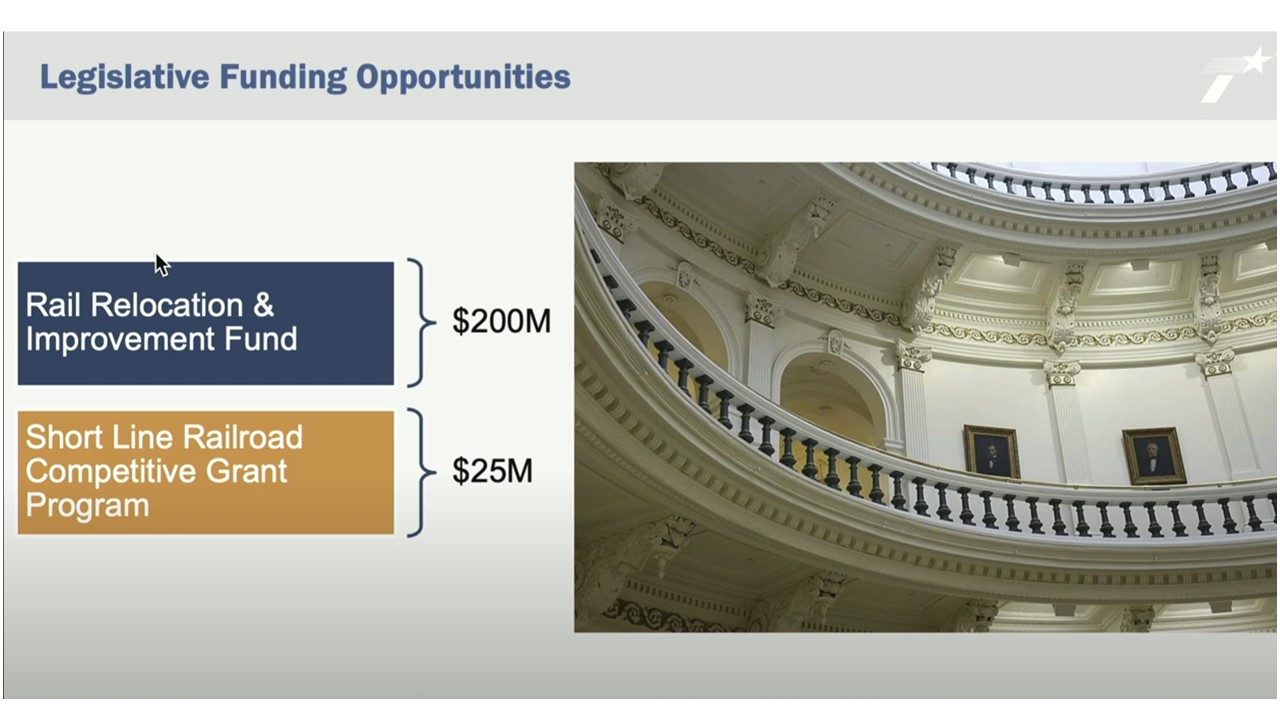 Two initiatives for funding a backlog of rail projects in the State Rail Plan hit a roadblock in budget discussions.

A rider to place $200 million in the Texas Rail Relocation and Improvement Fund, approved by voters over a decade ago and still unfunded, failed to make the cut when appropriation riders were discussed in the Texas House. Riders for rail projects fall under Article VII in budget wrangling and when the proposal was sidelined it dropped to Article XI, when riders usually go to die.
Another rider, for $25 million to assist Texas short line railroads, did not see the light of day as well.
Late word is that a revised figure of $75 million, which may be more palatable to budget hawks, will be drafted and up for discussion in the coming days.

"Why is it important to get a kickstart appropriation for the first time ever for rail projects?", asked Texas Rail Advocates President Peter LeCody. "If Texas can't put a minimum of 20% in the pot to vie for very competitive federal rail grants, then billions of dollars will go to other states and that would be a shame. This is a once-in-a-generation opportunity to dust off TxDOT rail studies and move goods and people in our growing state."
The Texas Rail Plan, which TxDOT has prepared and is required by the federal government to participate in state-shared-funding programs, contains billions in projects both studied and yet to be studied that would enhance the quality of life for Texans. Many rail-safety and rail-crossing initiatives can be undertaken with a kickstart appropriation.
$36 billion in federal funds has already been allocated and will be distributed to other states, mostly with competitive grants in federal IIJA rail funding programs, if we don't get our Fair-Share-For-Rail in Texas. Many cities, counties, ports, EDC's and MPO's have signed on to resolutions and letters of support to get a Fair-Share-For-Rail with projects and needs and can be found at this website: https://texasrailadvocates.org/issues/fair-share-for-rail
A recommendation from the November 2022 House Transportation Interim Report to Speaker Dade Phelan pointed out that "the Legislature should appropriate funding into the Texas Rail Relocation and Improvement Fund to be used as a strategic funding mechanism to assist the rail industry in seizing IIJA rail grant funds for improvements to the state's rail infrastructure."